27 Feb 2020
Roland DG reveals super-fast T-shirt printing with Texart XT-640S-DTG launch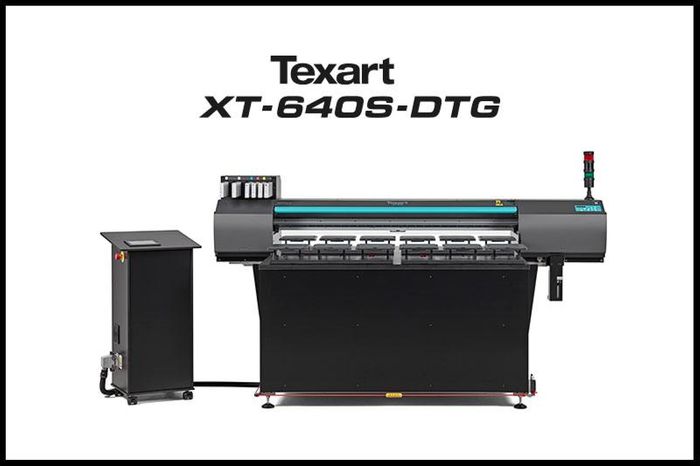 This latest addition to Roland's Texart range is a multi-station direct-to-garment printer which prints full-colour graphics directly onto cotton-based T-shirts and apparel, quickly and colourfully.
In-demand cotton products, printed on-demand
The Roland Texart range delivers reliable, high-quality output on-demand, enabling mass customisation of textile products. The new Texart XT-640S-DTG enables users to print durable, full-colour designs, photos, logos and text directly onto a wide range of cotton, cotton-rich and white polyester T-shirts and apparel. CMYK and high-density White sublimation inks achieve vibrant effects on white or coloured garments, all with a natural look and feel.
A T-shirt can be printed in as little as 8 seconds*, while the unique sliding baseplate/docking jig design allows different sizes of jigs to be combined for maximum versatility, especially on short production runs. The latest ErgoSoft Roland RIP with variable data and an auto-white function, makes direct-to-garment production extremely efficient.
Discover the new Texart XT-640S-DTG at FESPA
The Texart XT-640S-DTG will be on display at the FESPA Global Print Expo from 24th to 27th March 2020, where Roland will invite visitors to 'Discover New Digital Opportunities' on its booth (Hall 7-C60).
Paul Willems, Roland DG's Director of Business Development and Product Management EMEA, comments: "The new Texart XT-640S-DTG is another great example of the opportunities offered by Roland digital technology. Its speed, accuracy and versatility make it ideal for garment suppliers moving from screen printing to digital, those already running multiple direct-to-garment machines, brands bringing production in-house, garment embroidery businesses looking to diversify their product offering, and many more. The digital direct-to-garment printing market is set to grow and grow, and we're looking forward to helping more of our customers join it."
The Texart XT-640S-DTG is available to customers in the EMEA region.
To discover more about the new Texart XT-640S-DTG and Roland's presence at FESPA, visit rolanddg.eu.
*200x260mm print area, CMYK, production mode, based on production of 12 T-shirts.
About Roland DG Corporation
Roland DG Corporation is the world's leading provider of digital printing solutions. The company's inkjet printers, printer/cutters and cutting machines are widely used to create a broad range of promotional items including banners, signs, vehicle graphics, stickers and labels, and to provide customisation services for apparel and personal items like smartphone cases. Recently, Roland DG has embarked on a promising new retail frontier by capitalising on individuals' increasing desire to create their own, uniquely designed and decorated items. The company's COTO business division has developed proprietary design and print management software which enables customers to design their own gifts, apparel and treasured mementos, and to enjoy an unforgettable creative experience.
For more information, please visit rolanddg.eu.