24 Feb 2020
Pro Pig Ink by Muchcolours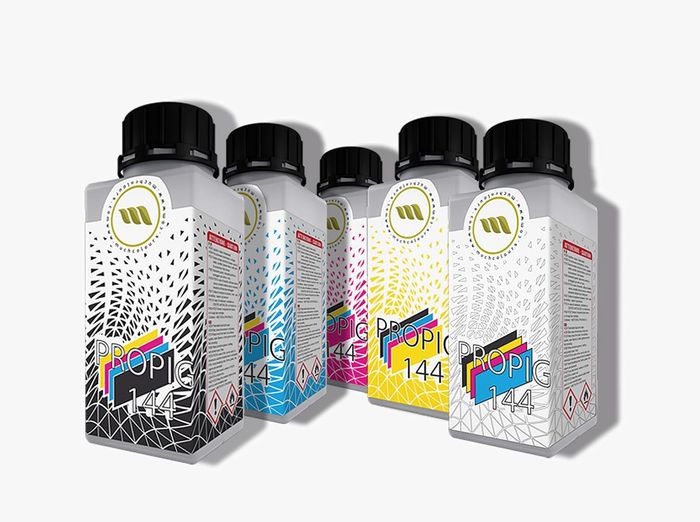 MuchColours is a company that has always been involved in industrial digital decoration with a new and alternative vision based on the production of printing systems, inks and chemistry they use.
Our inks, called "nanoinks", have all the characteristics of a nanofluid that can decorate and fix easily onto any type of surface.
The nanoinks dries to the touch immediately, while its structural cross-linking on some materials must be forced with a programmed temperature polymerization.
The grip on almost all materials is ensured by the fact that the nanocomponents of the coloured fluid are able to penetrate and cross-link accordingly thanks to the very small size of its components.
The nanoink, therefore, behaves in a completely different way from all the inks that are traditionally used for digital printing, thanks to its structural characteristics and its definition and print quality.
By far the best aspect of this technology is that after the printing process, it does not cake the material with ink nor add to its thickness, but maintains its natural characteristics transforming it into a unique and a distinctively charismatic product.
The PRO PIG represents the most refined and innovative solution that nanotechnology can offer today to the Industrial Printing sector.
They have no limits of application, being able to penetrate and decorate surfaces considered unprintable such as glass or plastic materials while maintaining their transparency.
The colours that we have available are: magenta, cyan, yellow, black, white, clear and flush.
It is a very versatile ink that can dry both by air and by polymerization, while overall being produced by the best decoration chemistry both in terms of resistance and printing quality, all done MuchColours.