19 Apr 2020
News from Junkers & Müllers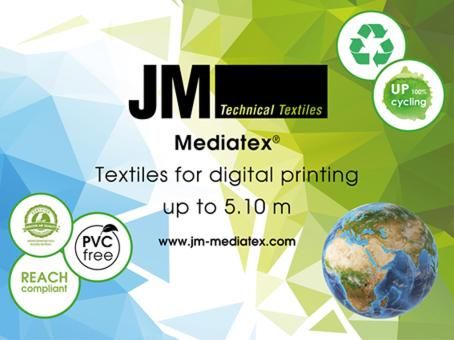 News from Junkers & Müllers
Junkers and Müllers sets standards for important topics on the market with a series of new developments.
At the top of the list is the sustainability project. A new line of products is being created within the JM MEDIATEX® family, made from 100% recycled polyester, or more precisely, recycled PET bottles.
The special name extension UPcycling refers to this additional ecological benefit. The fabrics GALLERY UPcycling FR and COVERTEX UPcycling FR are the first from this programme, others will follow this year. GALLERY UPcycling with its canvas fabric structure is particularly suitable for true fine art reproductions. The use in frame tensioning systems or as a display is also recommended. COVERTEX UPcycling is the ideal material for wall covering. The transition to recycled material does not change the quality of COVERTEX, which has been tried and tested for years, nor does it mean additional costs for the customer. High-glossy print images are produced with latex, UV and solvent inks. Both UPcycling products are available in different widths up to a maximum of 310 cm. COVERTEX UPcycling will also be offered in a width of 510 cm later this year.
After an extensive investment in a new coating system, Junkers & Müllers has recently started offering printing substrates in the XXL format. Now fabrics up to a width of 510 cm can be processed. Larger and larger display surfaces are becoming more and more interesting, especially in the advertising sector. Four types are offered in this oversize, the backlit products EASYBOX FR and ILLUMINANCE FR as well as the materials JM AIR FR and COVERTEX Upcycling FR.
Another new development is the double-sided printable BLO product SWITCH. It can be printed with UV, solvent and latex inks. In any case, glossy printing results on both sides are guaranteed. The ideal areas of application for this material are trade show graphic and shop construction, as displays, roll-ups, banners or in framing tensioning systems. The fabric is already available up to a product width of 310 cm. For 2020 an increase to a maximum width of 510 cm is planned.
The potential for new products is by no means exhausted. MUSEO FR is a new canvas quality that is suitable for printing with water-based, UV and latex inks.
A new product for the outdoor area is SIESTA. It has no white streaking, which is particularly important when used as a parasol. And SIESTA is recommended for banner applications because of characteristics that make it easy to hang.
Last but not least SILVER BLOCK FR should be mentioned here. This product, which is also attractively priced, is particularly suitable for roll-up applications with its silver-grey back and excellent opacity.