13 May 2020
EPS introducing its coating solutions at Fespa Global Print Expo 2020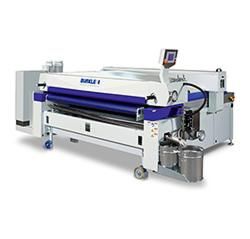 EPS is a French company specialized in the graphic finishing and treatment of media intended for digital printing.
The company became the official distributor of the coating system Bürkle LFC in Spain and Portugal.
These coating systems represent a new standard in the graphic finishing world, guarantee of an increased competitiveness for customers. They are designed to fulfil the ecological and economic requirements and to improve the inks resistance to the UV radiations and abrasion.
EPS will introduce its coating solutions at Fespa Global Print Expo 2020. You will see two liquid coating systems:
-The UV liquid coater LFC Bürkle designed for the application of UV coating in a wide range of media and inks to improve its appearance and durability. It is mainly aimed to small and medium sized companies' needs, within the graphic industry sector, as well as design and decoration.
-The infrared liquid coater Aquaseal 3300 guarantees a consistent application of coaters in large printed surfaces. It allows to apply the varnish in roll to roll for various materials as truck tarpaulins for example.
We are also displaying laminators available in 110, 168 208 and 230 cm wide. They are designed for the lamination, setting-up and assembly of media one by one or in roll to roll.