11 Aug 2020
Elval Colour exhibits etalbond® for signage, display and digital printing, in FESPA Global Print Expo 2021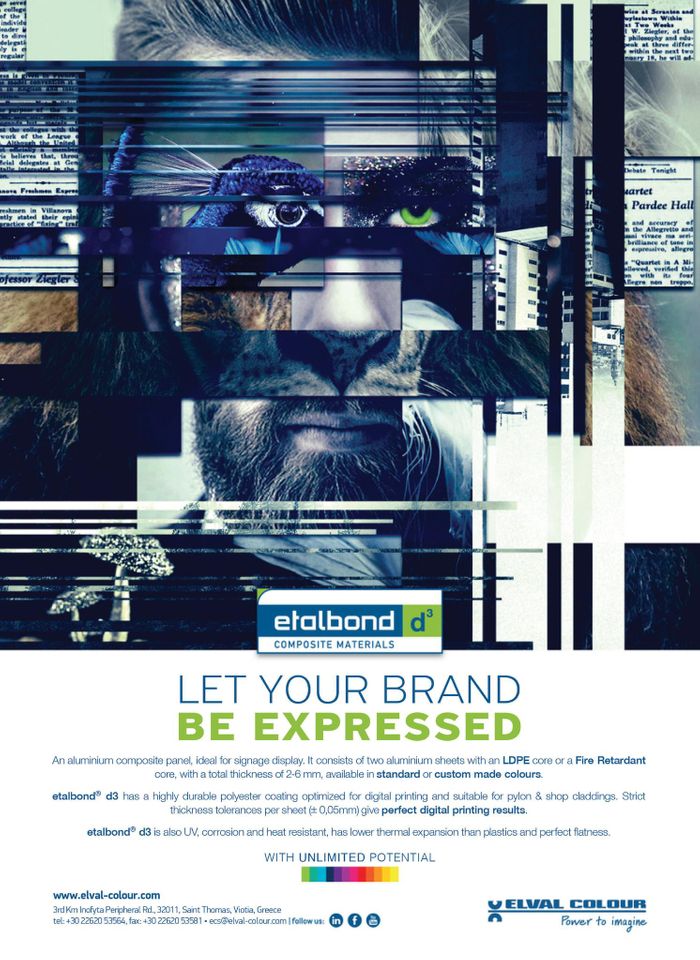 etalbond® Aluminium Composite Panel
Exceptional quality and perfect tolerances.
With its excellent coating quality and flatness, etalbond® offers exceptional quality, perfect tolerances, and tailor-made surfaces to maximize the throughput of digital printing and match any corporate id requirement.
etalbond® d3, etalbond® d2, and etalbond® d1 for signage and display are sandwich-type aluminium composite panels. They are produced using two aluminium sheets with either an LDPE core or a Fire Retardant core, resulting in a total thickness of 2-6mm. etalbond® d3, d2, d1 are lightweight panels which incorporate a number of excellent properties for processing and installation, while they are easy for handling and transportation.
Specifically, etalbond® d3 is the highest positioned product:
Very strict thickness tolerances per sheet (± 0,05mm) which allow perfect digital printing result
Up to 10 years warranty due to its highly resistant outdoor usage: UV-resistant, excellent corrosion-resistant, heat-resistant, has lower thermal expansion than plastics
Has the ability to utilize the rout and return technique. Available in many different surfaces (butler finish, colours etc.)
Elval Colour exhibits etalbond® for signage and display in FESPA Global Print Expo 2021
Visit Elval Colour's booth 5-M45 to meet the specialized team and present you the whole range of etalbond® products for digital printing, signage and display, the company's profile, the extended portfolio and to discuss more concrete ideas and solutions.
Measuring more than 40 years of experience in coating and colour matching, Elval Colour is a reliable partner that can offer added-value services to make your ideas a reality.
VISIT OUR SITE FOR MORE INFORMATION: https://www.elval-colour.com/en/products/etalbond-light