18 May 2022
It's boom-time for digital textiles – are you ready for the opportunity?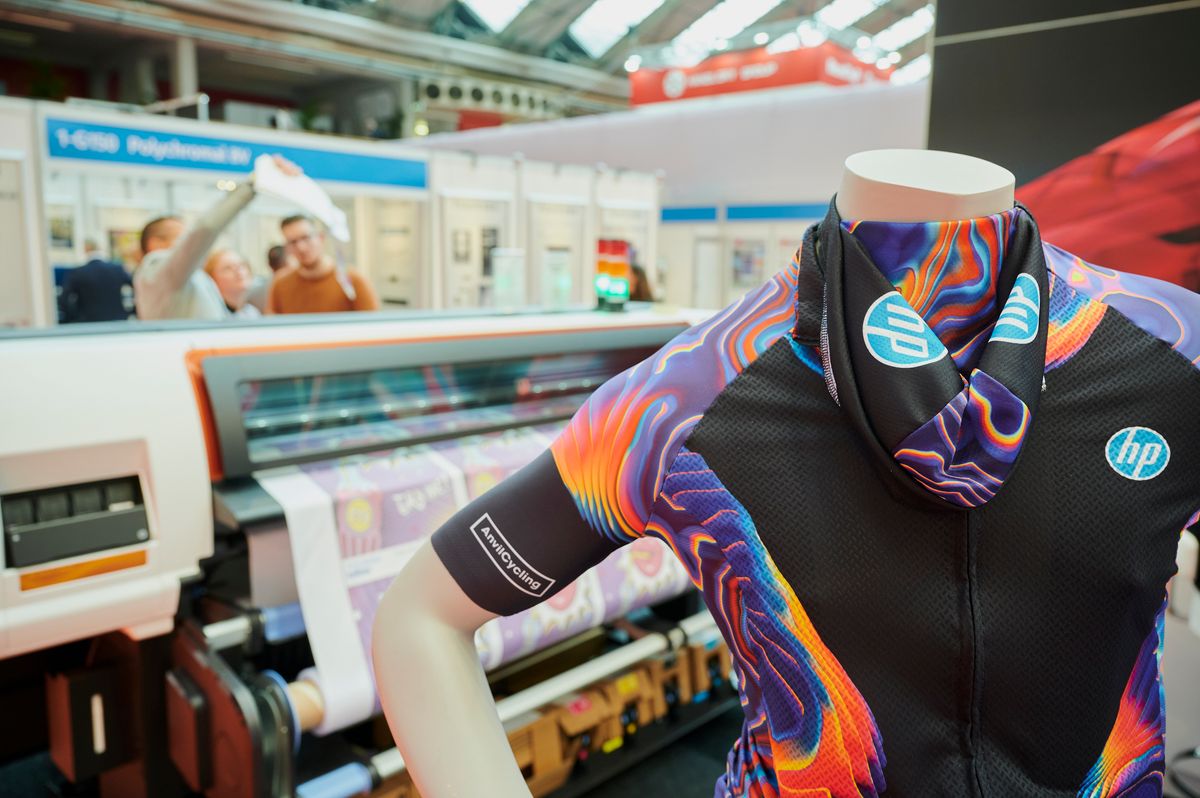 With the global digital textile print market set to reach $8 billion by 2030, new opportunities are opening up for enterprising print professionals. Thanks to technological advancements being made in roll to roll (R2R) and direct to garment (DTG), many textile print producers have opted to replace their flat screen-printing machines in favour of more efficient digital textile printers.
Now is the ideal time for printers, regardless of their size, to assess their current technology set-up to see whether improvements can be made, enabling them to capitalise on this increase in demand for printed textiles. Let's take a closer look at how the market for textile print is changing and why digital is fuelling its future.
One of the biggest drivers behind this significant growth in the textile print market is the rise of on-demand printing. Success comes to those printers that can meet and beat the turnaround times of others and adopt leaner and smarter ways of working. By keeping stock levels to a minimum, printers can enable customers to be more agile and respond to new market trends. Digital technologies also promote design diversity, eliminate waste and reduce the footprint of commercial manufacturing.
As the supply chain flexes to meet consumer demand, near-shore garment manufacture will gain traction and some producers are already choosing to bring technology in-house. In future, internationally sourced garments will be economically replaced by 'home-grown' products to reduce the carbon footprint of shipping costs and meet tighter turnaround times.
Thanks to digital technologies, we're also seeing a burst of creativity in a generation of creative textile entrepreneurs. By using small scale, low-volume production machinery built for cottage industries, these textile producers have carved a niche for themselves, driven by e-commerce, great design and super-fast fulfilment.
Another sector that's growing at a phenomenal pace is the DTG market. It's driving the fashion fulfilment business model whereby a print provider hosts online products for third-party production on behalf of designer-makers, offering them a turn-key manufacturing solution.
Automation software has also had a big part to play in the reduction of production timescales in the custom garment sector. We're seeing that the rate of adoption of digital printing technologies and software in traditional manufacturing operations is accelerating significantly. Using automation, customised garment production can be simplified as the software takes control of team logos, numbers, colours and other variable data with the touch of a button.
FESPA 2022 – innovations in textile print
With all the latest technological innovations in digital textile print as well as digital wide format and screen printing under one roof, FESPA 2022 promises to provide visitors with a source of information and inspiration. With over 325 contracted exhibitors, many of which are showcasing solutions for textile printing, garment producers can find out about the latest technological developments, media solutions and consumables available on the market and see live demonstrations, showing how to produce a wide variety of apparel, soft furnishings, soft signage and more.
Sustainability Spotlight – informative sessions on digital print textile production
Brand new for 2022, visitors can become more sustainability savvy by attending one or more of FESPA's Sustainability Spotlight sessions taking place. It's a chance to hear from industry experts on hot topics affecting the print industry including:
Digital Textile Printing: Meeting Consumer Demand for Sustainable Fashion and Apparel
Attendees will hear from Johnny Shell, Director of Functional & Industrial Printing at KeyPoint Intelligence about how the current volume-based model for fashion is no longer sustainable and how PSPs can capitalise on opportunities presented by digital textile printing.

Global Organic Textile Standard (GOTS) as a business case for sustainability
In this informative session, Franziska Dormann, Representative to Global Brands, Global Organic Textile Standard will inform delegates about the merits of GOTS, highlighting the critical importance of compliance in all steps of the supply chain.
ECO PASSPORT
Delegates can learn from John Murphy, Technical Director Europe, Oeko-Tex about how brands are relying on ECO PASSPORT when choosing raw materials for the production of apparel, footwear, textile and leather goods to guard against hazardous substances in their supply chains.
The Roadmap to Sustainable Textile Printing
With sustainability becoming increasingly critical across the entire supply chain of textile production, Peter Buttiens, CEO of ESMA considers potential solutions and pathways to success for the future of the textile printing industry.
The advantages of going digital when it comes to textile print will enable PSPs to customise with ease, reduce the cost of short production runs and meet increasingly demanding turnaround times.
This year's FESPA is the place to be for print professionals looking to dive into textile print for the first time, extend their product offering or specialise. I'm looking forward to seeing what our exhibitors have to offer at this year's show as they reveal innovations that will excite the print community. Digital textile print is the key to the future and will give PSPs the ability to unleash their creativity, delight their customers and create new revenue streams paving the way to future growth and profitability.
To find out more about FESPA Global Print Expo 2022 and to register to attend, visit here. Entry is free for members of a FESPA national Association or FESPA Direct. The cost of entry is €50.00 for non-members who pre-register using code FESM235 before 25th May.