18 May 2022
screen printing machine for cosmetic products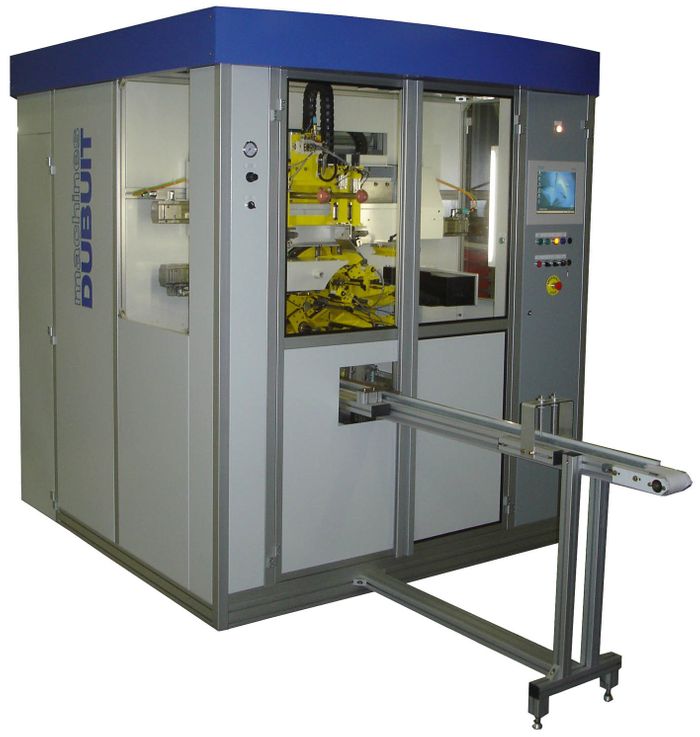 The DUBUIT 329-6 is a servo-controlled screen printing machine used to decorate cylindrical, polygonal, oval and other complicated plastic objects shaped.
Plastic decoration has become more complex in recent years with the development of more advanced plastics manufacturing techniques, resulting in attractive complicated shapes that are more aesthetically pleasant to the consumer. The decoration industry has seen average production rates getting shorter and shorter and the market more and more competitive, with a primary focus on cost.
To meet your every changing needs Dubuit invested a lot in designing a printing machine capable of delivering high output, flexibility, precision as well as a quick change over, all the while keeping your cost in mind.
Up to 13 servomotors can be installed on our 329-6 printer, allowing a very high precision of decoration and the memorization of your production parameters.
Just use the touch screen to draw your bottle or simply load your "dxf" file in the computer to customize your production. Once it is done, your object shape and dimensions, including its decoration parameters, remain stored in the computer for later use.
For a future order of the same item, you just have to recall the object that has already been saved. Thanks to the servo driven technology, the machine will adjust itself automatically in just a few seconds.
The only operation requiring manual intervention by the operator is the interchanging of our 'quick change' tooling. We have spent a long time developing a tooling system that would eliminate costly downtime of your machine. Our tooling now consists of just 6 chucks, 2 sets of grippers and a profiled piece which facilitates the transfer of your substrate to the feeding system.