20 Oct 2020
Graphic Sublimation Textiles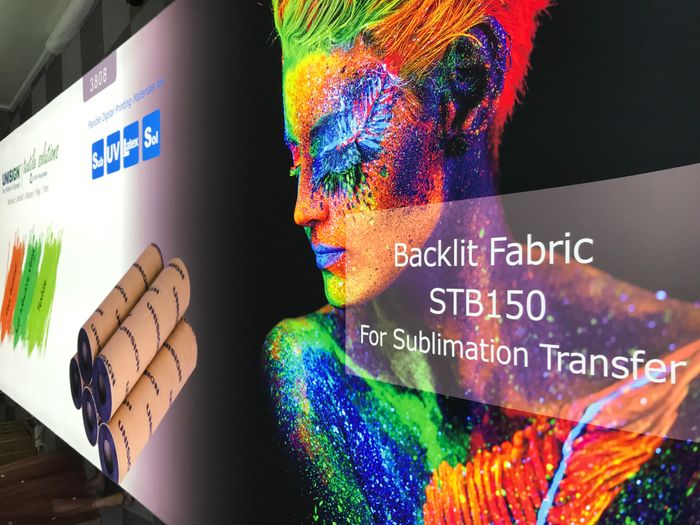 Recent years, our sublimation textile products (Suitable for Dye Sublimation& Dye transfer printing) are widely used in Flag& banner, Large format advertisement, Interior decoration, Display stands, Exhibition decoration etc fields.
Flag fabric has good ink penetration to guarantee the similar printing effect on both sides.
DSP02 Flag & Banner series, excellent double sides ink penetration effect,Weight:110 gsm
DSP02TB Flag series, 3 bars strong structure, one direction with strong tension force to well suitable for D.gen machine ,Weight:115 gsm
DSP04 Mesh flag,(Flag & Banner) 120gsm.
Our Backlit textile are widely used in different kinds of light box, which have good whiteness, high light transmittance, no light leakage problem.
SDB110:Super light and Soft woven Backlit fabric,weight 110gsm
SDB150:Woven Backlit fabric,weight 150gsm
SDB270KN knitted Backlit fabric, Weight: 260gsm
SDB280 Woven Backlit fabric, Weight: 270gsm
SDB250 Triple white woven Backlit fabric, Weight: 250gsm
Our Frame textile collabrate with Aluminium profile stands, which have good elastic, stretch memory, easy installing etc characteristic.
DSP06N weft knitted Frame Series Weight:230gsm
DSP07 weft knitted Frame Series Weight:270gsm
DSP08-T Power stretchable knitted fabric , two sides stretch, Weight: 230gsm
DSP09 display power stretch fabric, one side stretch, Weight: 230gsm
Our Blockout fabric are used for roll up, background, banner, frame advertisement etc. They have high opacity, good color consistency of both sides, Anti-curling etc characteristic.
DSP-BLK01 Black back blockout fabric Weight:260gsm
DSP-BLK-D Double printable blockout Weight: 260gsm
Categories
DIGITAL PRINTER - INDUSTRIAL
DIGITAL TEXTILE PRINTER - DIRECT TO FABRIC
DIGITAL TEXTILE PRINTING - SUBLIMATION PAPER