03 May 2022
EYELET MACHINES AND BANNER FINISHING SYSTEMS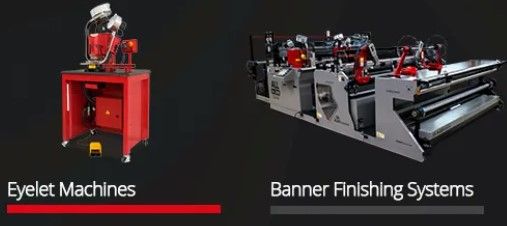 Eyelet machines.
For smaller companies, hand presses and semi-automatic eyelet machines are the perfect solution.
For large customers, fully automatic eyelet machines are available.
Evolution for mid-size banner manufacturers and MultiPress for customers who require to set eyelets on fabrics and banners.
Banner Finishing Systems.
For fence-mesh manufacturers, PLASTGrommet offers Roll2Roll Lite, a cost-effective solution to eyelet both sides of the rolls at the same time.
For companies wishing to reduce banner handling, The Finishing Station combines hemming welding and eyeleting in a single process with the need for only one operator.
For large banner manufacturers, All In One is the high-end, in-line solution that offers hemming welding, eyeleting and slitting. Fully automated with vision system to detect eyelet and cut marks. A 50-meter roll will be finished in less than 8 minutes.