17 Mar 2022
EFI Reggiani  TERRA Gold  textile printer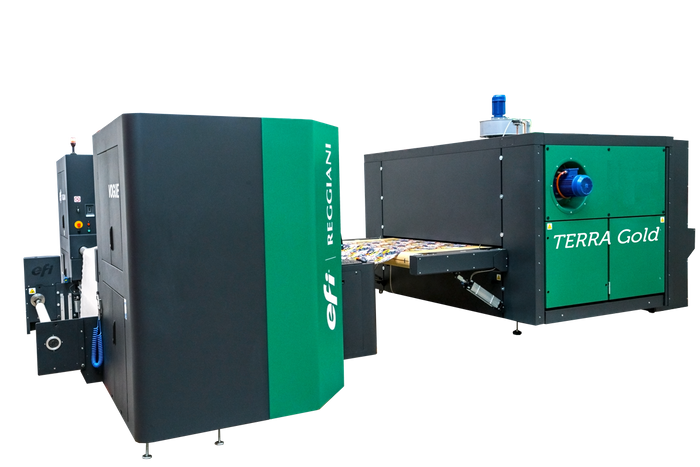 The EFI™ Reggiani TERRA Gold textile printer is part of EFI's complete TERRA line-up of pigment ink printer solutions and offers high-quality, highly sustainable direct-to-textile printing without steaming or washing.
The printer is 180 cm wide and capable of producing up to 325 square metres per hour with sixteen 600 dpi native resolution print heads. It features a new recirculating ink system for superior reliability and minimum maintenance, plus several high uniformity printing modes to ensure maximum flexibility in design capabilities. New, real-time image processing eliminates time spent in image pre-calculations also utilises a user friendly, intuitive interface.
EFI Reggiani TERRA Gold demonstrates smooth and precise output on both knit and woven fabrics.
The printer also features a more-efficient polymerisation process that takes place as printed textile goes through the printer's on-board dryer.
EFI Reggiani TERRA Gold is the perfect printer for industrial productivity without compromising on flexibility.
Printer configuration
• Printer production speed up to 325 sqm/h
• Print heads 16
• Available in 180 cm printing width
• Fabric feed (entry):
- Roll unwinder up to ø 400 mm
- Big roll unwinder (A frame) up to ø 1,600 mm
• Fabric take-up (exit):
- Fold
- Roll winder up to ø 400 mm
- Fold and roll winder up to ø 400 mm