23 Feb 2022
CWT 1737 Evolution MAX Wins PRINTING United Alliance 2021 Pinnacle Product Award for Laminators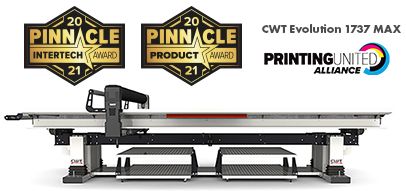 CWT 1737 Evolution MAX Wins PRINTING United Alliance 2021 Pinnacle Product Award.
Open to all PRINTING United Alliance supplier members, the Pinnacle Product Award competition evaluates products that are, or will be, available for sale in 2021. A highly qualified panel of judges from across the printing industry evaluated the annual contest's 160+ entries in more than 58 categories spanning analog, digital, output and non-output technologies.
"We received the awards with great pride and happiness, even more so since having such a distinguished jury paying attention and appreciating the fruit of our technical inventions
With this boost and confirmation about our technology, we will keep develop and manufacture innovative high-quality Swedish equipment for the graphic industries." said Per-Erik Mogren, Business Director CWT Worktools Sweden.
"One of the things I like best about our competition is that it is juried, and judges are basing their decisions on objective criteria. And with outstanding entries like CWT 1737 Evolution MAX they had their work cut out for them," said Ray Weiss, Director of Digital Print Programs, PRINTING United Alliance.
"The Pinnacle Product Award competition represents the best of the best among commercial hardware, software, consumables, and industrial and screen equipment," Weiss said. "Congratulations to all the winners."
About PRINTING United Alliance PRINTING United Alliance is the most comprehensive member-based printing and graphic arts association in the United States, comprised of the vast communities which it represents. The Alliance serves industry professionals across market segments with preeminent education, training, workshops, events, research, government and legislative representation, safety, and environmental sustainability guidance, as well as resources from the leading media company in the industry – NAPCO Media. Now a division of PRINTING United Alliance, Idealliance is the global leader in standards training and certification for printing and graphic arts operations across the entire industry supply chain. PRINTING United Alliance also produces the PRINTING United Expo, the most influential days in printing. The expansive display of technology and supplies, education, programming, and services are showcased to the industry at large, and represents all market segments in one easily accessed place.
The winning entry can be found online at the Pinnacle Product Awards Gallery here.