22 Apr 2022
Valiani's Print & Packaging Range of Cutting Systems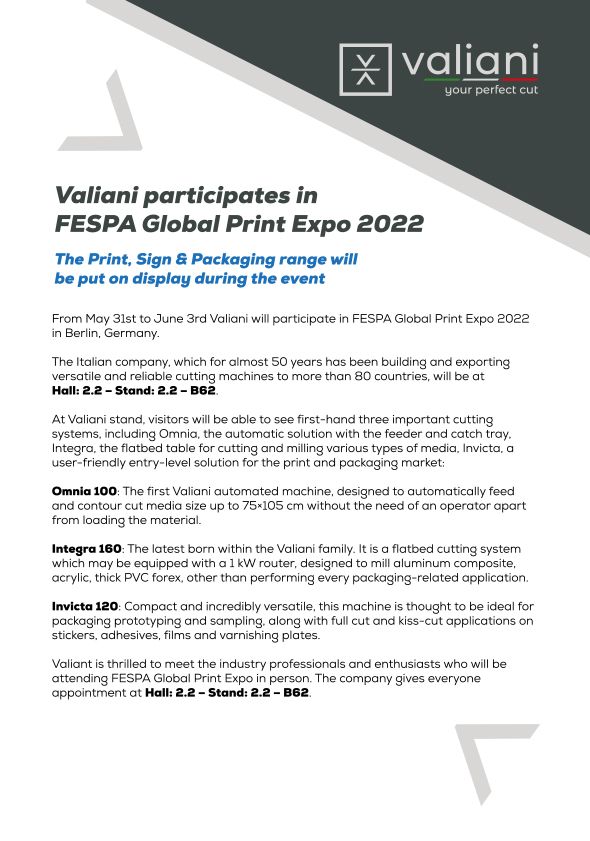 At Valiani stand, visitors will be able to see first-hand three important cutting systems, including Omnia, the automatic solution with the feeder and catch tray, Integra, the flatbed table for cutting and milling various types of media, Invicta, a user-friendly entry-level solution for the print and packaging market.
Invicta: Compact and incredibly versatile, this machine is thought to be ideal for packaging prototyping and sampling, along with full cut and kiss-cut applications on stickers, adhesives, films and varnishing plates.
Integra: The latest born within the Valiani family. It is a flatbed cutting system which may be equipped with a 1 kW router, designed to mill aluminum composite, acrylic, thick PVC forex, other than performing every packaging-related application.
Omnia: the onyl Valiani auto feed cutting machine, conceived to work independently all day and night long without the presence of an operator. The machine is equipped with a 20-cm feeder, a moving conveyor belt with two cutting and cresing heads and one catch tray.