05 Aug 2021
Valiani cutting machines land at FESPA 2021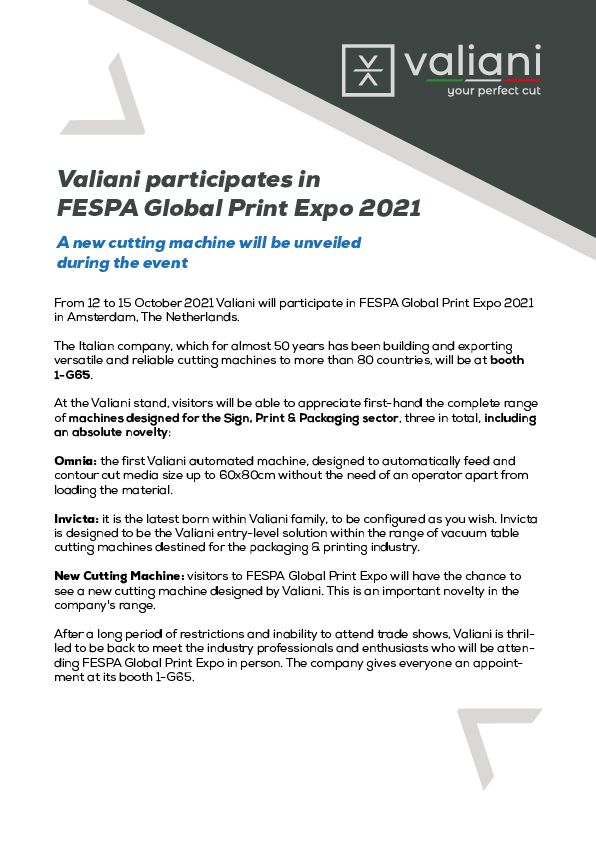 From 12 to 15 October 2021 Valiani will participate in FESPA Global Print Expo 2021 in Amsterdam, The Netherlands.
After a long period of restrictions and inability to attend trade shows, Valiani is thrilled to be back to meet the industry professionals and enthusiasts who will be attending FESPA Global Print Expo in person. The company gives everyone an appointment at its booth 1-G65.
At the Valiani stand, visitors will be able to appreciate first-hand the complete range of machines designed for the Sign, Print & Packaging sector, three in total, including an absolute novelty:
Omnia: the first Valiani automated machine, designed to automatically feed and contour cut media size up to 60x80cm without the need of an operator apart from loading the material.
Invicta: it is the latest born within Valiani family, to be configured as you wish. Invicta is designed to be the Valiani entry-level solution within the range of vacuum table cutting machines destined for the packaging & printing industry.
New Cutting Machine: visitors to FESPA Global Print Expo will have the chance to see a new cutting machine designed by Valiani, thought to cut very thick materials by using a 1 kW Router. This is an important novelty in the company's range.