06 Apr 2022
Trotec Laser at the FESPA Global Print Expo 2022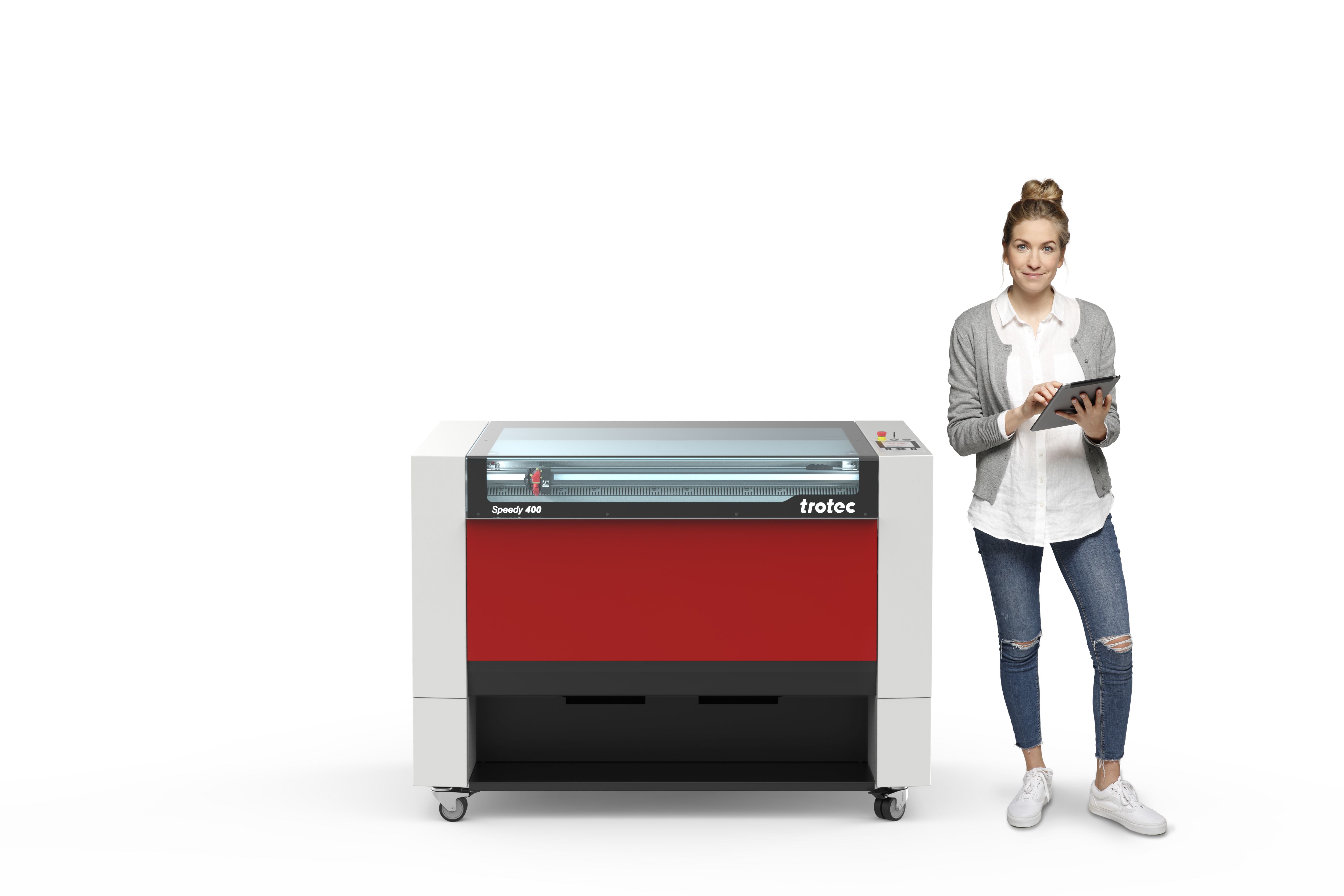 Trotec Laser, the Austrian manufacturer of global leading laser technology, will present the new standard of laser machines at this year's FESPA, Visitors of FESPA will be able to experience laser solutions of all product divisions live in Hall 1.2 Stand C21. The SP Series, the large-format laser cutting machine, the SpeedMarker Series as well as the well-known Speedy Series with the fastest laser cutting engraving machine on the market can be seen and tested. Trotec also presents the new camera system for Speedy – Vision Design & Position – and of course the brand-new version of the laser software Ruby®.
Digital laser-cutting solutions
Producing fast, clean and cost-saving – digital laser cutting does make it possible. With the digital process of laser technology it is possible to develop new areas of business. Printed products can be produced wear-free, reliable and flexible in form and material with the highest productivity.
The use of laser technology enables the perfect finishing of printed products. Whether sign or display manufacturers, acrylic converters, volume producers of soft signage solutions, label converters or store fitters - the laser cutter is a productive, universal, wear-free and contactless solution for all geometries and a variety of materials.
SP Series: large-format laser cutting & awarded design
SP laser cutters are designed for fast and precise processing of large-format materials. At our stand you experience live the SP2000 large-format laser cutter. The SP Series is engineered for a non-stop operation. It is the new laser standard in signage and display production. The SP 2000 offers a four-sided access and ideal workplace ergonomics. The Tandem Assistant ensures fastest cutting speed combined with maximum productivity. The Trotec SP laser systems (available in various table sizes) offer a comprehensive solution for cutting large-format materials, like wood, acrylics or cardboard. At display manufacturing and store fitting, for label converting and display making or for soft signage solutions – the SP 2000 is the laser cutter for a productive, wear-free and reliable solution for all geometries.
Speedy Series. Now new with a high-performance cover camera
A further highlight is the Speedy 400 Run on Ruby with a brandnew, integrated camera system in the cover – Vision Design & Position. With this, designs can easily be positioned at the workpiece. The powerful camera with up to 12 megapixel resolution, delivers a detailed and sharp live coloured image of the entire work area in Ruby®, no matter if the cover is opened or closed. A text may be inserted or a graphic positioned directly on Ruby. Complex measuring of workpieces, templates, remaining materials or 3D-objects does not longer occur. Also to be seen at the FESPA booth: Speedy 100, the well-proven flatbed laser.
Ruby® laser software redefined
The new laser software Ruby® enables a simple and fast workflow from idea to the finished product. Ruby® offers a platform that guarantees profitable and smooth order processing. A completely digital setup, which is connected, web-based and digital to the core makes working with the laser more efficient, faster and above all easier. Ruby® laser software redefines working with a laser and offers the laser user an unprecedented added value. Enthusiasm included!
About Trotec Laser GmbH
Trotec is a leading international manufacturer of laser machines and is setting new standards. As part of the Trodat Trotec Group the European innovation leader in laser system solutions and laser machines, develops, produces and markets laser equipment for marking, cutting as well as engraving of various materials. Exhaust systems as wells as laser – and engraving materials complete the product portfolio. 30.000 systems in 90 countries are taken care of by 17 Trotec sales offices with more than 700 employees. The export rate is 97 percent, the current sales in 2021 is at 150 million Euro.