14 Mar 2022
"Hands on" at Lotus Heat Presses - 50th Aniversary Stand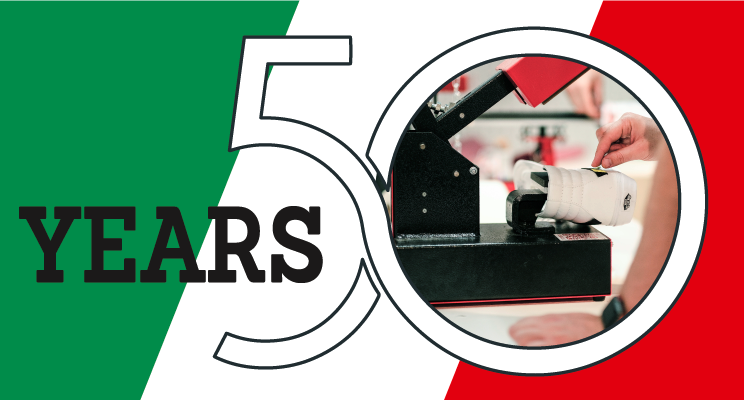 On this occasion, visitors and customers will benefit from many attractive anniversary discounts and add ons. These relate to heat presses and heat transfer vinyls as well as printers of the latest Roland generation, Sawgrass sublimation printers and T-shirt folding machines.
The focus of the demonstrations on the stand will be on the valve-sided press solutions from Lotus Production.
- For example, the pneumatic XXL format presses will be demonstrated, which are available in print sizes from 90 x 100 cm to 160 x 100 cm. These versatile presses are ideally suited for industrial transfer printing as well as sublimation on textiles and solid substrates such as Chromaluxe panels.
- The new LTS 550 M pneumatic membrane press in the 40 x 50 cm print format is also ideal for sublimation. It complements the range of proven large-format Lotus membrane presses, such as the LTS 1600 M, which has proved exceptionally successful in the fusing of electronic components for "smart textiles". Corresponding "Smart Textile" samples will be available at the fair.
- Furthermore, heat press solutions such as the LTS 150 B / 150 Slide, which have a special drying function for DTF transfers, will be presented.
"Hands on" is also the motto for the sublimation printers of the Sawgrass series, which are perfectly suited for solid substrates as well as Siser Easy Subli films and glitter vinyls.
Another highlight at Lotus are the numerous new heat transfer vinyls and colours from the manufacturers Siser, Poli Tape & SEF.
Siser has massively expanded its range of heat transfer vinyls with unique shimmering surface effects exclusively for Fespa. Also new are coloured reflective films, including neon colours.
All new colour cards and sample books from Siser, Poli Tape and SEF are available at the Lotus stand.
All stand visitors will receive a 20 Euro shop voucher as a thank you for their next purchase in the Lotus shop www.lotustransfers.com.
An attractive 0% Mietkauf / hire purchase service - with no interest and no fees - is available for financing all Lotus hardware.
Further information: www.lotustransfers.com.
You will find Lotus in Hall 27 at Stand B 51.