13 Mar 2022
Conversion kit Océ Arizona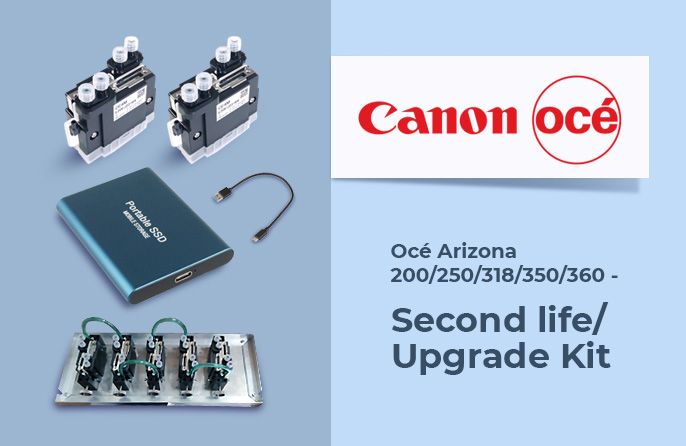 Due to the fact that Océ Canon has discontinued support for Océ Arizona 200/250/318/350/360 printers as well as the sale of important consumables - CA4 series print heads (single), ARISTA INK TECHNOLOGIES company offers to upgrade the existing printer to the actual analog of Océ Arizona 460 printer.
Supplied package (kit) contains:
Adapter for the use of print heads that belong to a new generation CE4M / CE8M (dual);
Ribbon cable adapter for the adoption of new head's inverted half;
Hard drive of SSD new-generation (to increase print speed +5-6%);
New original print heads of a new style from Toshiba manufacturer (4 or 5 pieces depending on the printer model);
Ink tube heads;
Tubes of headwater heating;
Ribbon of heads;
Video course of product installation (for engineers with slight experience);
Online support by leading experts.
Your clear benefits:
High-demand and time-tested equipment that is ready to print qualitative products again;
Absolutely new print heads of new generation with a small drop of 4-6 pc/l that are able to print smaller details of image at a higher speed;
The cost of print heads in the future will be 4-6 times cheaper than the old original one;
There are all necessary parts for self-installation (for outlying regions) in a kit set;
Online support of service department;
Always available consumables such as print heads + inks + service parts.
Additionally, we offer:
Qualitative inks in the original package of ARISTA OA.