31 Aug 2021
Agfa to present business-boosting inkjet solutions at FESPA 2021​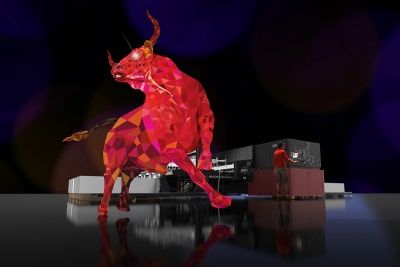 "We are thrilled that we will be able to welcome European print service providers at an Agfa trade fair booth again after all this time and talk to them in person", says Tom Vermeulen, Head of Agfa's Inkjet Sign & Display business unit. "Even though we organized a series of well-attended virtual events, as well as set up numerous online demos over the past 1.5 years, it will be great to discuss printing companies' needs in real life again. We look forward to helping them pick up the pace and create new opportunities for growth. We have been developing and fine-tuning quite a number of solutions over the past period that we are eager to show."
The line-up of Agfa's inkjet solutions at FESPA will include:
Agfa's new flagship inkjet printer for the high end of the sign & display market. The 3.3 m hybrid Jeti Tauro H3300 UHS LED – aka 'the Beast', referring to its power and sturdy built – is geared towards the reliable 24/7 production of print jobs of first-rate image quality, even at the highest throughput (2-pass mode), achieving a speed of up to 600 m²/h. Next to sign & display work, it is also well-suited for printing corrugated cardboard. The Jeti Tauro H3300 LED is available in six configurations - four for board printing and two for rolls. At FESPA, it will be shown with a manual loading table and an automated unloader.
Agfa brings yet another new printer to FESPA. The Avinci CX3200 3.2 m dye-sublimation soft signage engine produces vibrant high-quality prints on a wide range of polyester-based fabrics suitable for indoor or outdoor soft signage and interior decoration applications – either directly or with transfer paper as intermediate step.
Also on the booth will be the Oberon RTR3300, Agfa's 3.3 m high-end roll-to-roll machine that combines excellent quality and high throughput with a unique ease of use. Featuring UV LED curing and a water-cooled print plate, it tackles even the most heat-sensitive flexible materials. Its dual-roll option enables efficient printing on two smaller media rolls.
All engines are driven by Agfa's Asanti software, which streamlines the printing workflow, warrants color consistency and deploys its smart algorithms to ensure the lowest ink consumption in the market.
In the wide-format application area, visitors will be able to discover a variety of eye-popping prints that show off the print quality of Agfa's engines and GREENGUARD Gold certified inks, as well as the creative opportunities they bring about.
In a dedicated industrial inkjet zone, which will also display print samples, Agfa's experts are ready to discuss Agfa's solutions for inkjet applications where printing is part of an industrial production process. On the one hand, Agfa develops integrated printing solutions, such as Alussa for leather decoration or InterioJet for printing laminates. On the other hand, Agfa is present with high-performance inkjet inks - both UV and water-based pigment inks - for a wide range of industrial applications, partnering with both the OEMs of print solutions and their customers.
Meet Agfa at booth 1-E20 of FESPA 2021 (12-15 October 2021, RAI Amsterdam, the Netherlands).
Check out all events that Agfa participates in.
About Agfa
Agfa develops, produces and distributes an extensive range of imaging systems and workflow solutions for the printing industry, the healthcare sector, as well as for specific hi-tech industries such as printed electronics & renewable energy solutions.
The headquarters are located in Belgium. The largest production and research centers are located in Belgium, the United States, Canada, Germany, Austria, China and Brazil. Agfa is commercially active worldwide through wholly owned sales organizations in more than 40 countries.
Contact: press@agfa.com